Not an Ideal Predicament
Depleted revenue, compressed margins, a shortage of labor, plus an infrastructure not designed for an online volume consisting of 40-60% of total sales. Not ideal for fashion retailers. And beyond that, retailers experience up to 8 percentage points of margin loss on a digital order.1
But what does the future hold? There is the debate. For fashion retailers, global online is projected to grow another 20% over 2021 levels and revenue is expected to be 5-15% below 2019.2 For those retailers reopening now, spring sales have been positive, and fashion is one area that is benefiting from discretionary spending. In the US, clothing sales have been seeing record levels since March3, and the UK recently reported that May 2021 consumer spending was 7.6% higher than May from 2 years ago. 4 Over time, it is possible that the online volume may taper down when vaccination reaches a specific % of the population. Others say it will continue to grow and not back down any. Both are valid arguments, and the answer could very well depend on the industry segment and even the region.
Due to this remaining uncertainty, retailers must be nimble in their forecasting, planning, and inventory management. Omnichannel is here to stay; that is certain. Even if it does calm down, it will grow again. And therein lies the challenge. Forty percent of retail winners suggested that "too many inventory transfers between selling locations" was a top inventory management challenge.5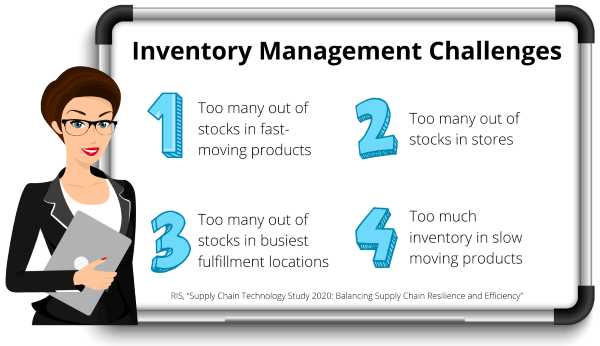 So Now What?
Retailers must anticipate and respond to customer demand and market shifts, even though it has become more complicated. It's not surprising that fewer than 10% of retailers can do this today;6 but it does explain why 54% of retailers have listed improving cross-channel forecasting a top opportunity.1
But that is only the start as retailers must reconfigure their assortments for their stores and channels. In an omnichannel environment, a store is a showroom, experience center, sales, fulfillment, and return location. Stores in isolation do not maximize the brand, revenue, or margins. So, even though fringe sizes have a 10-15% greater demand online, some of this inventory should be carried at stores for fulfillment, even if it isn't on display.
That same type of diligence must be carried through other inventory management processes. Allocation and pricing must consider omni-demand when making inventory and pricing decisions. How much is going to be picked-up from the store, shipped from store, or even returned to the store? The demand is there, whether you plan for it or not. If you don't plan for it, the following situation can occur.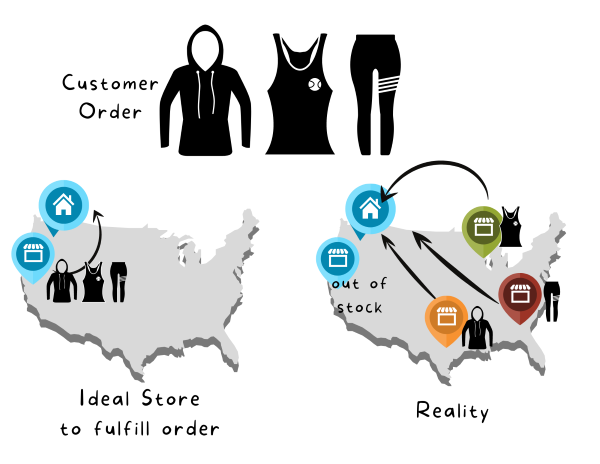 And finally, fulfillment. Improving the upstream processes will increase profitability through markdown reductions, sell-through gains, and lower shipping costs. Yet profitable fulfillment decisions are needed. Traditionally, these focus only on cost, and not opportunity. Imagine a customer buys running shoes online for $100 and requests 2-3 day shipping.
You have two stores (Store A and Store B) that can fulfill the order, and the shoe is priced at $100 at both locations.
Both stores can meet the fulfillment request timeline.
But at Store B, it will cost you $3 more to ship.
Decision made. Go with the lower cost at Store A.
But that decision ignores the opportunity of those shoes. What if you knew that to sell through all your inventory at Store A would require an average discount of 20%, but Store B would require a discount of 40%. Now Store B is a significantly better option.
Increasing profitability for omnichannel requires rethinking and retooling merchandising and supply chain operations. The previous examples each improve margins through better inventory utilization and lowered shipping costs. However, there is a cascading effect. Each improvement builds upon one another from planning, to allocation, to pricing, and thru fulfillment, starting over again at planning, creating positive momentum with each cycle.
Sources
IHL Group, "2021 Store Matters: How Retail Still Runs Through Local Stores in Digital Age"
McKinsey & Company, "The State of Fashion 2021"
US Census Data
" "UK Retailers Report Strong May Sales after Lockdown Ends." June 8, 2021
RSR, "The Retail Supply Chain: Designing New Ways to Satisfy Demand"
"Can your brand anticipate the future of selling?" A commissioned study conducted by Forrester Consulting on behalf of antuit.ai.