In less than a week, over 40K individuals from more than 90 countries will descend on the Jacob K. Javits Convention Center for NRF 2019 – the Big Show! Undoubtedly, many of these individuals will be looking for the latest and greatest innovations in retail that can help grow top line sales and increase bottom line profits. But many are also looking for ways to improve their strategies, so they can execute their way to results.
It's all too often that the strategy wasn't ever clear, misaligned to execution, and disaggregated across an organization. Moreover, their inability to grow top line sales and bottom line profits shows in the results.
Pricing is one of the biggest areas that impacts both the top and bottom line. While many will say that their strategy is to stay competitive in the market, or to position value to their consumers, pricing strategy is all too often an afterthought and at best, reactive.
Antuit Insights recently published, "5 Reasons Why Your Retail Price Strategies Aren't Working", so I felt it appropriate to add some insights to part two of my series, Four Steps to Better Pricing Decisions.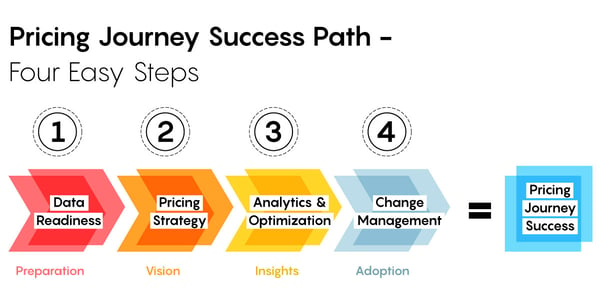 A successful pricing strategy should integrate across three core areas; category, competition and consumer. This triad of opportunities affords the framework necessary to ensure alignment, execution and value within your strategy.
Category
Success always starts with the category, and your pricing strategy success is largely dependent on making the right category decisions. What is the role of your category? Common answers include; product innovation, destination driver or margin builder. By defining the role of your category, you can better identify the appropriate pricing strategy to support the role.
Consider the following subjects when constructing your pricing strategy:
Price Matrix – Do you have a price matrix to align all of the pricing relationships within your category appropriately? Whether you've termed them pricing ladders, or price families, a pricing matrix shows the relationship between like products (e.g. same style different colors), or product relationships (e.g. good, better, best). Establishing the right price matrix is important considering consumer shopping behavior when evaluating product decisions, substitutions and incremental purchases. These decisions are driven by the way your products relate to one another, based on the core attributes, price and value. Ensuring products have the right price parity or ratio helps the consumer purchase decision, and it supports the category role via price strategy.
Price Message – How are you conveying the price strategy and what message does it convey? Are you an EDLP+ retailer, Hi-Lo, or highly promotional? Most price messaging comes at the shelf via labeling, but how are you using that labeling process to inform buying decisions. Are you showing WAS/NOW messages to convey value? Do you use additional signage to promote products via special offers? The key here is to ensure the everyday price is messaged well enough so that it becomes your consumers reference price. And once you've established this price, all other messaging should magnify the value and competitiveness of your products. Without a clear reference price, your strategy will be unsuccessful. This is because promotional pricing, markdowns or another special occasion will be the angle from which your consumer views you.
Price Merit – Have you determined the value of the products in the category, and how consumer shopping behavior will support it? Creating a destination category implies competitive pricing, along with product innovation, to retain or grow market share in the category. Product innovation implies new product entry, higher pricing and higher perceived value by your consumers. Margin building lowers costs passed on to consumers, higher pricing (mark-ups) or competitive positioning, and it protects the category from promotion frequency and profit decline. By leveraging transaction log (POS data), you'll know how valuable your price strategy is by visualizing shopper trends. Do they always buy on promotion? Are your reference price and average out the door price equal? etc.
There are more areas of category focus, but the aforementioned ones underscore the importance of aligning pricing to category first. This helps ensure that your offerings align to your consumers' understanding of your categories and products, while allowing price to strategically support each one.
Competition
Though it all starts with the category, pricing competitiveness is now the single most concentrated area for adjusting pricing strategy and making frequent pricing changes – especially promotions. The difficulty today centers on omni-channel, namely how best to keep up with mobile devices and online shopping, while keeping store prices competitive. A mass of channels has magnified the race to the bottom on price, and many organizations feel that reducing price is the best way to protect market share and top line growth.
When assembling your price strategy to be competitive, consider these points:
Differentiation – How different is your product mix (e.g. attributes, assortment, innovation, etc.) as compared to your competition? Oftentimes, price is treated as the primary driver of differentiation, which dilutes the consumer's understanding of your category message/role and product differentiation. Evaluate the product's role by channel (e.g. store or online), and ensure the price reflects your product's differentiation, brand value and strategy.
Price Ratio – What variance is there between you and your primary competitors? Why are they your primary competitors? Is this true across all channels? Price ratio is an excellent way to see how much you're following competitor price, not moving enough, or never equal enough, to make consumer shopper decisions easy to switch from your product to theirs over time. Price ratio, inventory position and financial goals should inform your decisions on when to move the price without chasing to the bottom and merely reacting. Thus, you can be more proactive and less reactive.
Localization – How are you leveraging pricing zones, or pricing by store (or channel), for a competitive advantage? The most valuable pricing decisions are local ones (SKU/STORE), but execution systems seldom support this type of pricing. Thus, you should evaluate your market dynamics by analyzing how close your competition is, what site traffic looks like, your local assortment mix and how you price. Going local preserves profit growth via flexibility in your pricing strategy, just as each market demands.
Consumer
Analytics is critical to evaluating your category role and competitiveness; by leveraging transaction level data, you can understand your consumers' behavioral patterns. When are they purchasing? At what price are they purchasing? What products are they purchasing? Finally, you need consumer insights for a successful pricing strategy.
Here are a few things to consider:
Consumer Segmentation – Do you have a clear view of who your consumer really is? Millennials, single parents or retirees? Do you have a clear pricing strategy for each segment, reflecting the right spending behavior, frequency of purchases and channel proliferation needed to be successful? Consumer segmentation combined with pricing locally delivers a powerful one-two punch; not only is it competitive by market (as needed), but you can also align your category role and price messaging to meet each segment need.
Consumer Purchase Behavior – Are you following behavioral and shopper trends via POS, 3rd party sources, etc.? For each segment, who are your penny pinchers, impulse buyers, etc. These help explain when you'll need to promote and how often. Furthermore, you can identify the right pattern behavior to both incentivize and also retain your consumers by leveraging scoring algorithms.
Personalization – Are you engaging with your consumers in a 1:1 way? By doing so, you can personalize price and promotions to meet the specific needs of each individual consumer. This is the largest area of growth for promotional pricing strategy, specifically for digital and online. Optimizing offers, offer types and value messaging by affords the greatest cost savings and benefits, as conversion and consumption are high, and price is valued.
Category, competition and consumer insights form a successful pricing strategy. And once aligned and integrated across an organization, the greatest value is realized via price. As you peruse the expo hall at NRF, think about how you plan to differentiate, segment and localize more effectively to be that much closer to successful pricing.
Antuit enables you to predict and measure how pricing levers will impact your demand, revenue and margin. Learn more here.