Retail and CPG companies struggle to balance investments that remediate short-term pains and improve long-term resiliency. Disillusionment over prior investment payoffs, plus being in constant crisis mode, has supply chain executives focusing on fundamentalssuch as efficiency improvements and cost containment.
These concerns are not unfounded. In a recent Gartner analysis, 76% of supply chain executives say they face more frequent business disruptions than three years ago. These disruptions pressure companies to focus on supply chain basics, but PWC warns that they're missing value creation opportunities. Hence, supply chain leaders are doing more.
Fifty percent of supply chain leaders planned to increase their funding in supply chain transformation for 2022, and
Fifty-two percent are planning to upgrade AI/ML demand planning/forecasting capabilities by 2023.
Supply chain executives are staring down a once-in-a-generation supply chain shift. And their customers, colleagues, and boardrooms are looking at them to solve the current crisis while digitally transforming the business for the future. Each is a monumental task, yet supply chain leaders must do both simultaneously.
The tension between today and the future
In a recent PwC survey, Digital Trends in Supply Chain Survey 2022 , 80% of the respondents felt that their technology investments haven't fully delivered expected results. With pressing short-term pressures from inflation and supply chain disruption, this has resulted in less than 10% of survey respondents viewing digital transformation as a near-term priority. Yet this is not due to a lack of belief in the solutions. Budget pressures are the leading impediment, but many other challenges were listed, primarily talent and the technical solutions already in place.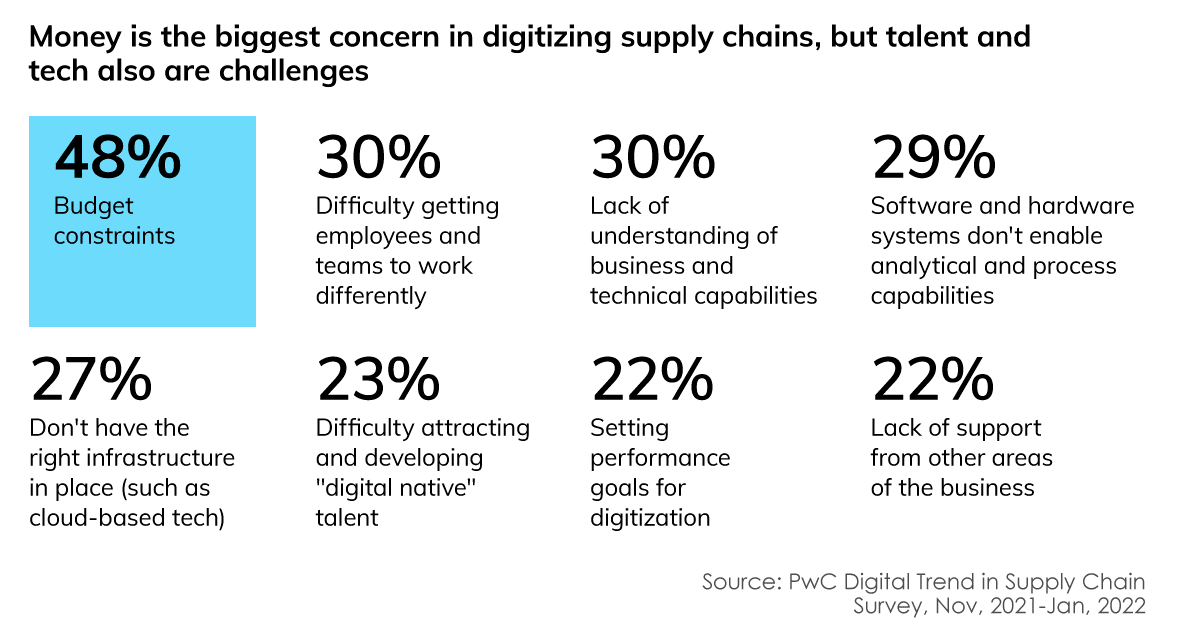 The reputation of tech investment appears to have suffered from the 2x3 rule – "twice as hard and three times as long" – before results can be felt. Simply put, executives are concerned about their ability to absorb and adopt new technology in their organization rapidly.

But are AI technologies an exception to this?

According to another study by BCG GAMMA, the BCG Henderson Institute, and the  MIT Sloan Management Review, a survey of more than 3,000 executives revealed that more than half of respondents are deploying AI: six out of ten had an AI strategy in 2020, up from four out of ten in 2018. But few perceived significant results at the outset, and only one in ten companies reported substantial financial benefits from implementing AI.

However, that study was 2020, which feels like light years ago . Has anything changed? Well, the simple answer is AI, on its own, is not a silver bullet. There is a growing awareness that AI technologies produce better and more immediate results, BUT ONLY when they leverage the years of business experience and knowledge embedded in the supply chain operation team and the solution provider ecosystem. AI is a tool. And like all tools, it's only as good as the people who use it (and how).

How tech investment can move fast enough to solve short-term problems

David Simchi-Levi, professor of engineering systems at MIT, and Kris Timmermans, senior managing director and head of Accenture's supply chain and operations practice, reported in this Harvard Business Review article that quick business-impacting results are possible for those who:

Replace consensus forecasts with a unified view of demand

Move away from a one-size-fits-all supply chain strategy
Create a single, dynamic plan that
Balances supply and demand
Identifies and responds to deviations or disruptions
Their research highlights retailers and CPG companies that achieved a wide range of business benefits, including increased market share, improved service levels, increased one-day deliveries, and reduced operating costs. It's important to note that each company had a very different challenge to solve, so the approach of moving away from a one-size-fits-all mindset was a significant part.
So, data and AI technologies help deliver on the three tactics highlighted by Simchi-Levi and Timmermans above, right? They structure a unified view of demand, segment the retailer's business for greater focus and accuracy in optimization, and identify deviations that require a response. So why was only one company out of ten in the BCG survey above reporting benefits?
Looking at it differently, what are those 10% doing?... It's about the people.
As further revealed in the BCG study, engaging human expertise is a critical key to success:
Only 21% of companies achieve significant benefits by applying the fundamental steps of AI adoption—the right data, technology, and talent in place, along with organizing these elements around a corporate strategy.
Almost double that, 39%, achieve results by adding the ability to iterate on their solutions with their solution providers, but
A full 73% of companies benefit by orchestrating macro and micro-interactions between humans and machines.
What is this study saying?
AI will only achieve the expected benefits if your organization learns how to interact and work with AI.
While so much attention is given to getting the right data – significant benefits are obtained when people readily adopt, use, and interact with the information provided.
Implications for the choice of a solution provider
At the outset, many companies do not have the scientists, technology, and even the correct data to get started. Many solution providers can fill this gap. However, these retailers and CPGs have uniquely deep knowledge about their business and a strong sense of the source of their challenges. They need a partner who can grasp the particularities of their business and get to the heart of the problem without forcing a tech overhaul. To deliver on this approach, solution providers must be experts in their field, have business expertise, AND MOST IMPORTANTLY, work with the CPG and retailer as part of their team.
Realizing Success in AI
Digital transformation and data/AI technology investment will grow. More than 50% of businesses plan to increase their supply chain transformation funding, with the most extensive areas aimed at improving analytics, demand sensing, AI, and robotic/automation.
For best results, don't position the investment as a siloed, future-only initiative separated from the immediate challenges that recent supply chain volatility has produced. Instead, view it as a way to mitigate current challenges while future-proofing your business against new risks.
Yet to realize AI benefits, find and empower the right people in your organization and partner ecosystem. The best data does not ensure success. Identify a solution provider that can integrate within your team to share knowledge, learnings, and best practices seamlessly with each other. Uncover champions who are excited about the possibilities that AI and machine learning can bring to people's everyday work lives. And promote curiosity and questions while encouraging people to be part of the answer. Developing these traits gets your business through the current crisis while setting you up to mitigate the next.