With online sales increasing, traditional allocation and forecasting methods are costing retailers millions. Inventory is not in the ideal location resulting in higher shipping costs, more markdowns, and fewer sales. Omnichannel allocation has already been shown to improve ship completes by 2x and inventory turns by greater than 250%. But how is omnichannel allocation different than traditional methods? We've highlighted 6 points of differentiation below: Customer Demand, Returns, Continuously Forecasting, Markdowns, Platform, and Experience.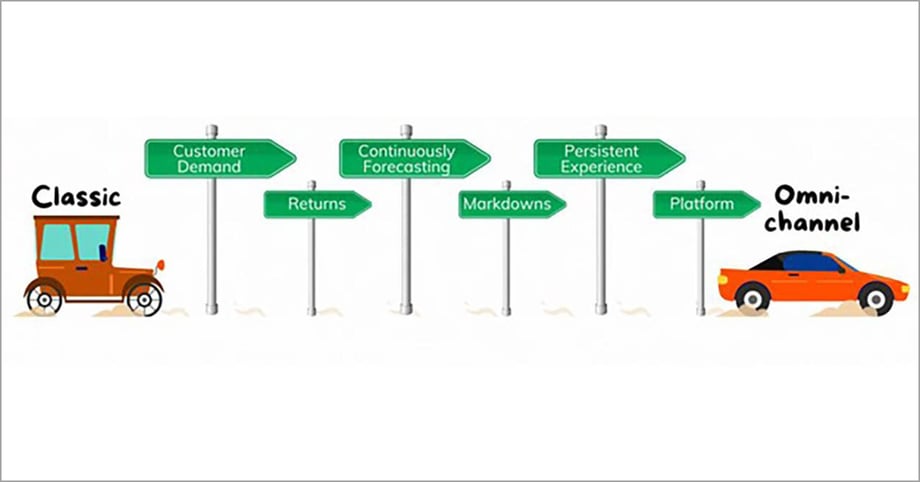 Customer Demand
Everything must start with knowing the customer demand. How people shop, why they shop, where they shop, how they're influenced, how behavior is changing, how events affect outcomes. . .everything. When you pride yourself in anticipating consumer demand, every data source is worth evaluation. This approach is fundamentally different. Other methods use history to determine next years' sales, push inventory according to store format, or send goods according to a merchandise plan.
When comparing to traditional methods, how else is this different?
It doesn't take store demand and add a fixed number of extra units for in-store pickup or store fulfillment. That's arbitrary.
It doesn't simply take prior pickup or fulfillment data for the store. That's what happened, not what should have happened.
Instead, it considers several internal and external data sources, and uses machine learning and AI algorithms to predict demand for both the store and online.
One of those external data sources could be customer proximity to stores. You can better align inventory quantity to locations with that location information combined with customers' propensity to buy online and their fulfillment preference.
Returns
Most traditional allocation calculations don't factor in returns. As online shopping has increased, so has the percentage of returns. Worse, most customers who buy online prefer to return in-store. Furthermore, the rate of returns as compared to sales tends to increase after a promotion.
The rate of merchandise returns must be factored in allocation calculations. And this rate must be accurate at the time of allocation. Perform an allocation directly after a promotion, and there is a higher probability that prior sold merchandise will be returned than an allocation that is done two weeks later. Ignore this, and you will over-allocate.
Continuously Forecasting
The prior paragraph highlights the importance of continuously forecasting throughout the season. The situation is constantly changing, and the algorithms, models, and results need to be fed with up-to-date information for the point in time. That pre-season forecast becomes less valuable over time.
Markdowns
The beginning of the season is different from mid-season, which is different from end-of-season clearance. For that last merchandise push, you must predict how the stock will sell through to avoid over or under-allocating. Typically, this is done by evaluating the weeks of supply and the current sell-through rate. This technique is flawed, as it reflects what happened, not what will happen. It's critical to know future demand and the expected markdowns required to clear the remaining merchandise. The last thing you want to do is to push merchandise to stores that are well beyond their demand peak, where massive markdowns are needed to clear the stock.
Platform
In omnichannel retail, the customer is at the center of all processes. Our omnichannel allocation is built upon an AI Demand Intelligence platform that forecasts consumer demand. This customer demand is our operations' heart and is shared across different functions such as planning, pricing, and fulfillment. By doing this, retailers gain synergistic benefits as they expand to other processes instead of colliding against different viewpoints.
Persistent Experience
All of these factors could equate to a complex experience, but that can't happen. Every time you get a new car, you don't relearn how to drive. You get better features and a better experience. That's our belief. Sophisticated AI can't weigh down the user. It should be packaged in a familiar process, but served through a better experience. This increases user adoption, compliance, and results.
Customer Demand, Returns, Continuously Forecasting, Markdowns, Platform, and Experience. These differentiate allocation from traditional techniques. They increase retailers' inventory value by reducing shipping costs, inventory transfers, and markdowns. Additionally, it increases sales and customer satisfaction by having merchandise in locations where the customers want them. Using these methods, we've seen a 2x increase in ship completes and a 250% improvement in inventory turns. But this alone isn't the compelling force to adopt omnichannel allocation. That compelling force is doing what you intuitively know you should be doing. It's possible to anticipate customer demand when considering all the channels and customer journey. It's possible to predict how often returns will happen and when. It's possible to understand the relationship between allocation and future pricing. And we all know it's possible to demand a great user experience. Technology has created amazing possibilities for customers, and technology can do the same for businesses that embrace it.